Run Better Experiments With 1-On-1 Coaching Calls
---
Run better experiments with Jakub Linowski as your coach. Over the years we have currated successful experiments from such leading companies as Microsoft, Reverb, Yummly, Thomasnet, Volders, Backstage, etc. With coaching as two calls per month I guide experimentation teams while increasing your odds of winning experiments. During these informal calls we typically discuss, run, design, and analyze experiments together. I also surface lots of past test data examples (we have published 477 experiments with more being actively added). Coaching helps teams run better experiments and in return makes GoodUI better as we correct our understanding with your results. Everyone wins.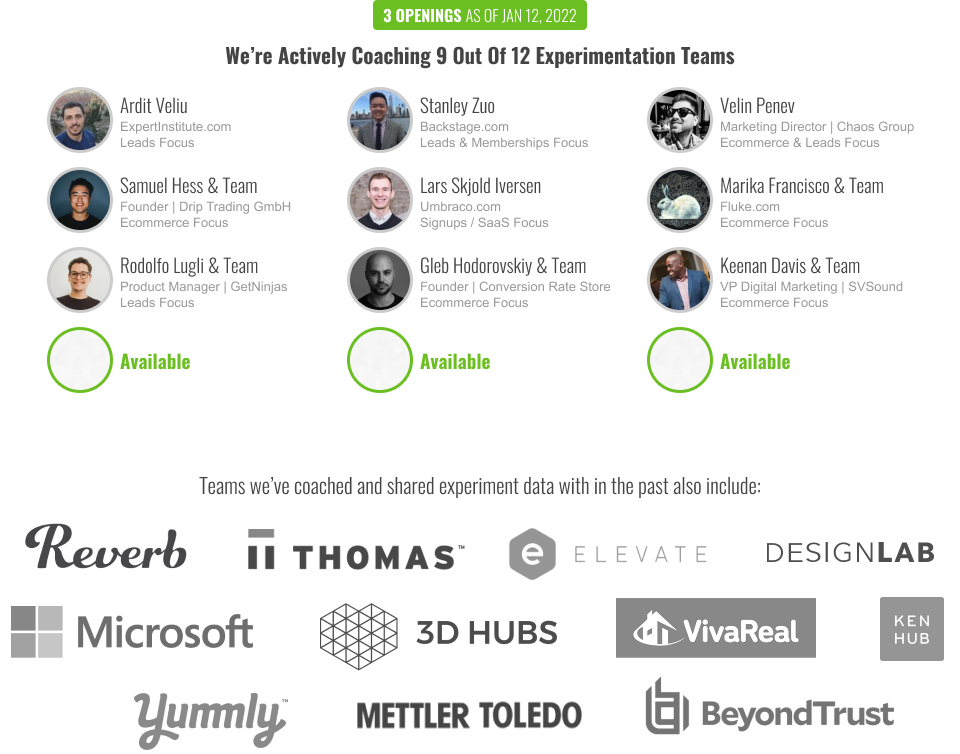 Twice Each Month You'll Receive Guidance On:
What To Test

Bring screenshots, URLs or working test designs and you'll receive top testing ideas and feedback based on data from successful experiments shared by others.

How To Design Your Tests

Bring work-in-progress a/b tests and you'll receive feedback on what to measure and how to structure your experiments.

How To Analyze Your Results

Bring running or completed a/b test data and you'll receive feedback on next steps and our recommended decision (ex: Some decisions may include: whether to stop, implement, re-run, discard or iterate on your test).
What You'll Need To Qualify:
Build And Run At Least One Test Per Month

You need to be able to build out and start at least 1 experiment per month. This implies you'll need to have existing experience in setting up a/b tests, a testing tool, and development resources.

Good Enough Traffic

Your a/b tests will need to have at least 10,000+ unique visitors and ideally 1000+ transactions per month to be able to detect the effects we'll be aiming for.

Sharing Experiments (Two To Start. One Each Month)

Since we don't charge any fees for this, you'll be sharing test data with us. To start we'll ask for 2 experiments you already ran in the past. With your help we'll also be correcting GoodUI to improve its predictive accuracy.
Actual Results From Our Coaching Include:
For Examine.com
to avoid hasty decision on thin data
learned
Director or Marketing @ Examine, Toronto, Canada
Starting experience: less than 10 tests
In a fast moving startup environment where the mantra is to fail fast and to move quickly, Jakub and his mentorship process has taught us the value of patience. This patience has allowed our team to make smarter business decisions that have positively affected our internal processes and our bottom line. We are more efficient and more effective as a result of the mentorship. Jakub himself is very methodical, knowledgable, and honest in what he does. The mentorship is highly recommended.
Martin gained the following results:
For DesignLab.com
real-time concepting to clarify ideas
loved the
Co-Founder @ Designlab, NY, USA
Starting experience: 5+ tests
Working with GoodUI has added tremendous value to our company. Jakub's knowledge and experience with A/B testing & conversion optimization is impressive, and the data-driven ideas he brings from his past case studies are indispensable. His recommendations have proven to be a low-cost, quick-win avenue for growing our online business. If you're not following the best practices from GoodUI, you're doing it wrong!
Daniel gained the following results:
+25% Leads

+21% Enrollment
For 3Dhubs.com
increased testing velocity
liked the
Chief Product Officer @ 3D Hubs, Amsterdam, Netherlands
Starting experience: 20+ tests
Using the GoodUI Mentorship we were able to run experiments based on proven patterns, resulting in a significantly higher significance rate for experiments. Furthermore Jakub helped us with increasing our testing velocity so we really got the most learnings out of our testing efforts. We are big fans!
Rob gained the following results:
+17% Leads

+4.1% Leads

+14% Leads
For Vivareal.com.br
prioritize better testing ideas
learned to
Senior UX Designer @ VivaReal, São Paulo, Brazil
Starting experience: 5+ tests
Thanks to GoodUI Mentorship our company stepped up a level regarding A/B testing & conversion optimization. Jakub always bring great ideas tailored to your business which are either based on past case studies or fresh new ones. Thanks to his mentorship, I've learned about prioritization, how to design better tests and also how to analyze graphs and when to stop a test. I highly recommend his mentorship.
Rodrigo gained the following results:
+12% Leads

+6.2% Leads

+5.2% Leads
Apply Today For GoodUI Coaching