Good Optimization Work Is

Expensive
Use Datastories To Lower Your Optimization Costs
A typical optimization project which we run for our clients, may cost anywhere from thousands of dollars well into five digits. These costs cover the large amounts of analysis, design, development, maintenance and testing work that is needed on each project. Many tests also fail or turn insignificant and have to be iterated upon. When we share our test results, that's at a fraction of what clients pay. You can cut your optimization costs (and time) by gaining access to the quality tests we report on. And we're really glad to offer this to you.
---
Receive Additional Premium

Evidence+ Tests
Active Subscribers Gain Access To Additional Premium Tests That We Are Starting To Add
Premium Evidence+ Tests are better, stronger, with more defined effects. We have just started to add these in July of 2016, and will be adding more of these types of tests for you to learn from. These quality tests may report on multiple metrics for a more complete picture and are reserved for Datastories members exclusively.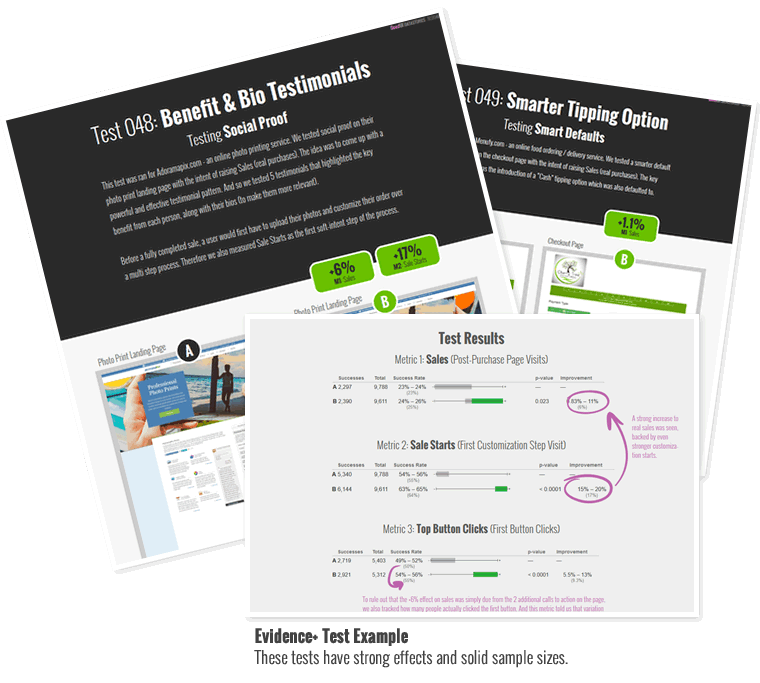 ---
Some Of Our

710+ Happy Readers

That Use Datastories For Inspiration & Higher Conversions
"

They've been great, and helped us improve our testing processes. We typically store them up for a couple months, then go through them when we are looking for inspiration on a new test to try. " - Chris Carr, CTO, InvestorCarrot
"

I was very curious how GoodUI Datastories would be. After receiving the first issue I can say that it's a great piece of professional work. I was feeling

like sitting right next to Jakub and Vlad

while they prepared and ran the tests. It's a great thing to have everything provided in such detail. Imagine

as if you actually ran these tests

but it took you just a reading moment and not 3 months. Great isn't it? " - Robert Rafiński, Project Manager, Oponeo.pl
"

I really appreciate your guys' work and attention to detail. Not just on the account, but the Datastories. Really great work; it saves me a ton of time in making decisions for my SEMs on split testing. We're in a high growth mode at the moment, so Datastories is

just what I needed to save me time

in directing my team. " - Thom Hutter, Director, Insight Marketing Solutions
"

So far to be honest, I was expecting more than 1 lesson per data story. However I know how much effort and time probably goes into making it great. It was nice to receive the next one right away though. Overall they are great quality and I'm learning. " - Kris Kayyal, Marketer, MaxCDN.com
"

GoodUI is my gold standard for best practices in design. I use their research-driven insights to

impress my very best clients

. Most clients are impressed when I can show scientifically how their site is going to convert more. It helped me land deals and build trust with my clients. Thank you for creating this amazing resource! " - David Petersen, Senior Design Consultant, Happy Fox Media
---

---
Join us to seek higher conversions & data you can trust
Make better design decisions for a

fraction of the cost

of a real optimization project, today.
You will also receive future issues at $39/month. Unsubscribe anytime. 30 day money back guarantee.

---