BetterUI: What Should RightMessage.com Change On Its Homepage For More Signups?
I believe that you have some awesome UI ideas and suggestions for improvement from which we all could learn. So when Brennan Dunn, owner of rightmessage.com (a personalization platform), just tweeted asking for a review of his homepage, I think we have a great opportunity to do an open group review (and upvote the best ideas to the top of course). You in?
Launched a new @rightmessageapp homepage yesterday – and it's rockin' RightAsk.

What do you think? https://t.co/rytGN4XwAY

— Brennan Dunn (@brennandunn) July 5, 2018
Here Is How It Works
Let's focus on improving signups
For each UI improvement that you can think of for the homepage screen below, share it as a comment (multiple comments are fine, but try to keep each comment tied to 1 idea for easier prioritization).
Vote on your own or other people's ideas and let's try to surface the best ones to the top
Based on these ideas I hope we all can learn something
The Homepage

The Homepage / With Floating RightAsk Widget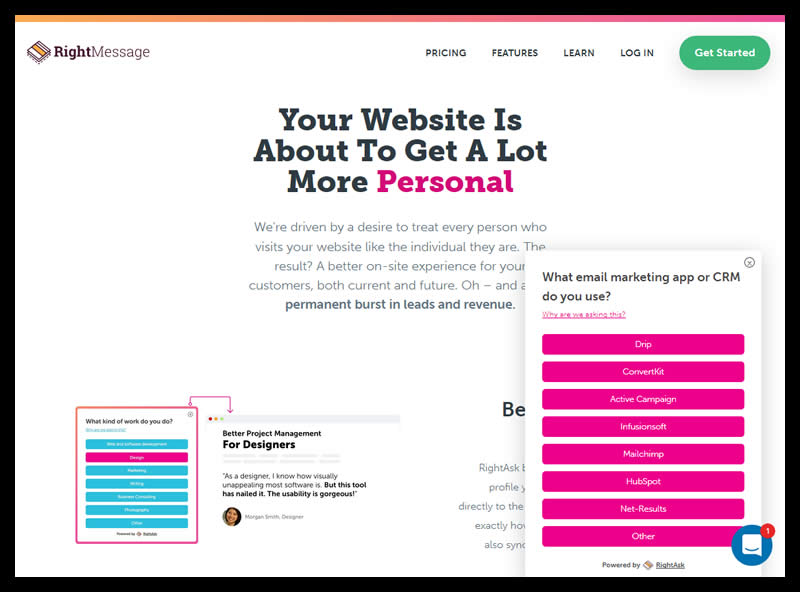 Share Your Ideas For Improving Signups + Vote On Other Ideas
Please share your ideas on how signups can be improved on any of the screen above. Let's do this ...
---