Pattern #83:
Progressive Fields
Pattern Author: Jakub Linowski - Founder @ GoodUI
Based on 4 Tests, Members See How Likely This Pattern Will Win Or Lose And Its (?) Median Effect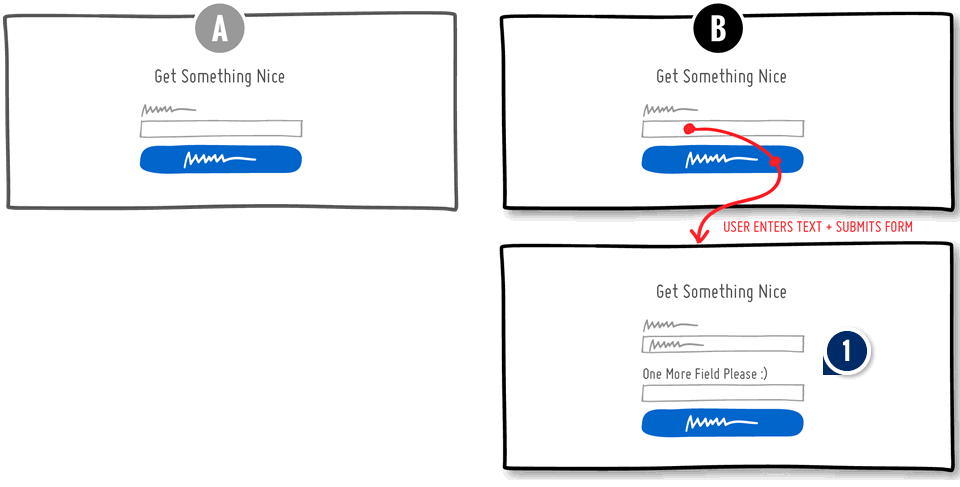 The idea of this pattern is to show form fields progressively after clicking the submit button (or after filling out particular fields). Could this frustrate users or is this is a good way of not overwhelming people with too many fields right away?
Median Effects
?
Progression
Ex: First Action
(3 tests)
?
Leads
Ex: Leads, Quotes
(2 tests)
?
Engagement
Ex: Future Action
?
Retention
Ex: Return Visits
?
Referrals
Ex: Social Shares
For each pattern, we measure three key data points derived from related tests:
REPEATABILITY - this is a measure of how often a given pattern has generated a positive or negative effect. The higher this number, the more likely the pattern will continue to repeat.
SHALLOW MEDIAN - this is a median effect measured with low intent actions such as initiating the first step of a lengthier process
DEEP MEDIAN - this is derived from the highest intent metrics that we have for a given test such as fully completed signups or sales.