BetterUI Challenge: InVision + Natural Language Forms = +7.6% Prediction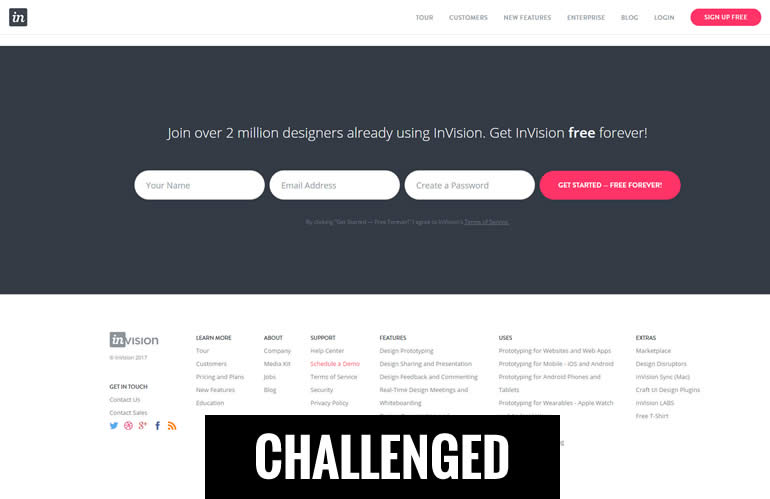 I think Invisionapp.com, an amazing collaboration platform for designers, can do a better job in terms of collecting more signups on their long homepage. I'm openly challenging the very bottom of their homepage which contains a set of horizontally aligned form fields. I think that the form fields could apply the Natural Language Forms pattern organizing them as sentences. More so, based on 6 observed tests using this pattern (with 4 positive results), I can also make an approximate effect guess of +7.6% more signups. There, I made a public prediction! Now will InVision test this? I hope so, since there is still so much to learn.
InVision Should Test This Pattern With These 3 Key Changes
Here is what I would change if I were to apply the Natural Language Forms pattern to InVision's homepage. The concept contains 3 key properties: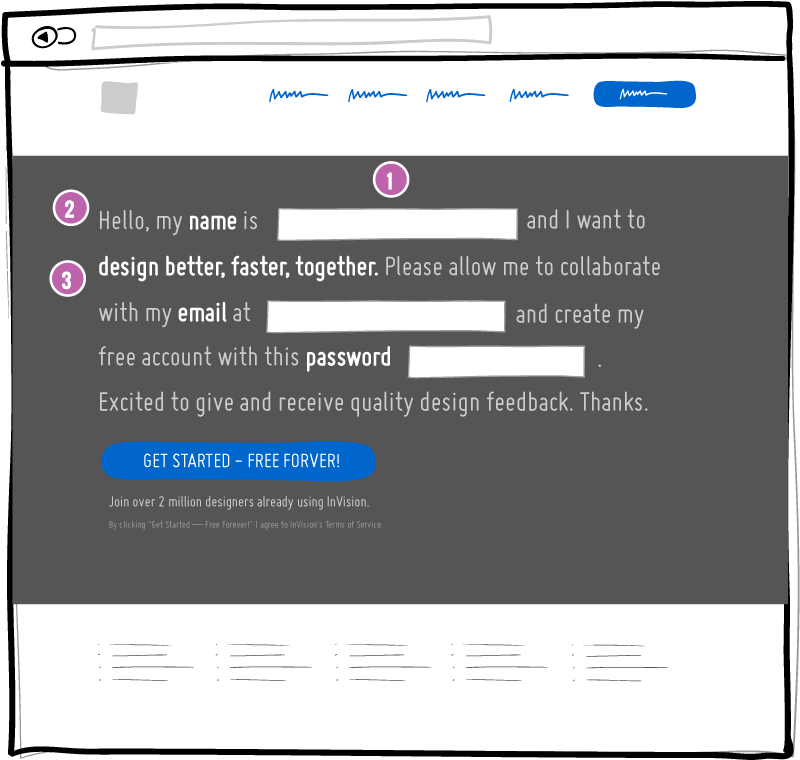 Fields As First Person Narrative


All form fields are weaved together into sentences using a first person narrative. The form labels and reasons for filling them out are all written from the reader's perspective.

Friendly & Informal Language


The narrative starts with a friendly introduction and uses informal language throughout.

Benefit Amplification


Benefits should be mentioned and reminded of throughout the narrative. In this concept, we suggest to reuse the key benefits from the headline: "design better, faster, together" (with additional consistency of message).
Measuring Success
In order to gauge whether this pattern is successful or not I would setup the test as follows:
Audience: Desktop + Anyone Who Sees The Form


I would include only desktop traffic in the test (although it would be interesting to mirror the test in a mobile segment). Furthermore, because the change is actually quite far down on the page, I would also further segment the test results to those people that actually scroll down to the bottom of the screen (and see the variant).

Primary: Signups


The primary metric would be a successful shallow signup - measured with a next page visit in the registration flow.

Secondary: First Project Creation


It's good practice to measure something closer to the business, further in the funnel. In this case it could be either a deeper task (such as first project creation) or even further (becoming a paying customer).
Outcomes & Updates
I really hope to influence InVision to test this concept and share the data with everyone in here so we can learn something about natural language forms. Here is what has happened so far:
April 28, 2017 - InVision Has Seen It

I reached out to InVision about this challenge and Clark Valberg (the company's awesome CEO) confirmed he noticed it at least.

@jlinowski @InVisionApp @mikefiorillo Cool idea Jakub!

— Clark Valberg (@ClarkValberg) April 28, 2017

Mike Fiorillo (Growth & Product / ex-Head Of Optimization) also chimed in saying they have a bunch of other testing ideas in the pipeline but is interested in the concept as well.

@jlinowski @InVisionApp I am indeed curious about this pattern. Personally I prefer a straightforward form but data always trumps opinion :)

— Mike Fiorillo ???????? (@mikefiorillo) April 28, 2017
Here Is Where You Come In
If you'd like to help and make this happen, nudge InVision a little to encourage some open experimentation. Here is a tweet link that you could use:
Tweet To InVision To Encourage Them To Test This
---