Seeing & Using Chart Patterns In A/B Tests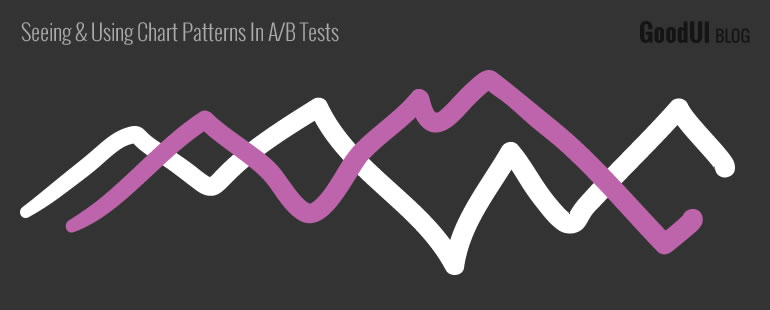 Determining if an effect of a test is real or not, to what degree and with what probability is typically answered with statistics. Surely we can use detailed conversion data such as sample sizes, effect ranges, priors, p-Values, and confidence intervals to gauge if B is really better than A. The way I understand it is that statistics will typically flatten data across a time frame into a summed up view while trying to provide answers. With this, I'm also beginning to wonder if perhaps there is valuable information stored in time based charts in the form of interesting patterns before they are flattened. Here are a few patterns that we're beginning to see and use as we run our own a/b test projects.
The Emergent Stability


The effects of the control and variations will fluctuate more in the beginning than later on in a test. As effects regress to the mean they get closer to what they really are with time and this is visible on any cumulative graph. One possible implication of such a pattern might be to delay a test from being stopped prematurely until greater stability is first visualized. More concretely, one example of this might be to withhold from stopping a test as the effect lines are still converging or diverging strongly, until they become more stable and horizontal.
The Drop


Occasionally, it's possible to see conversions drop to a zero on any given day (in a day chart of course). On some projects this might be quite normal due to just lower traffic or a lower conversion rate. When this pattern does show up on a test with a high traffic scope, it may be a signal to double check the quality of the test setup, as something might have broken. This can in turn be a QA check during a live test.
The Winning Streak


Things get lucky due to chance and that includes tested variations that show winning streaks. Such a pattern may manifest itself on a day chart of an a/b test in the form of a multi day success rate or a higher than usual spike. The way we might use a pattern such as this is once again to delay a test from being stopped prematurely. We know that a successful streak will typically follow with a more realistic effect due to regression to the mean. Because of this, before we stop a test we might want to let the test run a bit longer until "the peak" is not the ending point, or that we see multiple peaks across a test that are more balanced.
The Bump


When all variations (including the control) are affected somewhat equally on a cumulative graph, we might call that a bump pattern. This is especially true when the effect begins to stabilize and surprisingly everything shifts up or down when it really should be more stable. When we see such a pattern it might have been caused by an influx of new or irregular traffic which signals for further investigation. On one recent project for example, this pattern was caused by an atypical mass email campaign which not only pushed our overall effect higher, but also blurred the effects between our variations within the test. For this reason, we decided to remove the 3 days of data around the bump (can be read up in detail in Datastories Issue #20).
The Random Dance


When a cumulative graph is showing A and B dancing around each other, it might be an indication that the test will probably need a long time to reach strong or significant results. When we see patterns like these, we might re-estimate the testing duration and figure out if we even have the required time to detect the effect. Seeing this pattern might also be an indication that the effect is just too small, or that we over-estimated our test, and definitely that the test is not ready to be stopped.
What Do You Think?
There is definitely room for statistics, proper stopping rules, and test estimations. In no way do I see these graph patterns and intuition replace the former. But once we remove the granularity of data over time, some things maybe get lost - which I'd like to not lose sight of. What's also quietly being implied by these patterns is the idea that looking at live tests may have some benefits as it complements statistics. What do you think? Have you ever used patterns such as these, or any other ones while running your own a/b tests? Please share in the comments.
---
Each month we write about and share a detailed and exclusive optimization story for you to learn from.
---