The Signup Story With -12% To Signups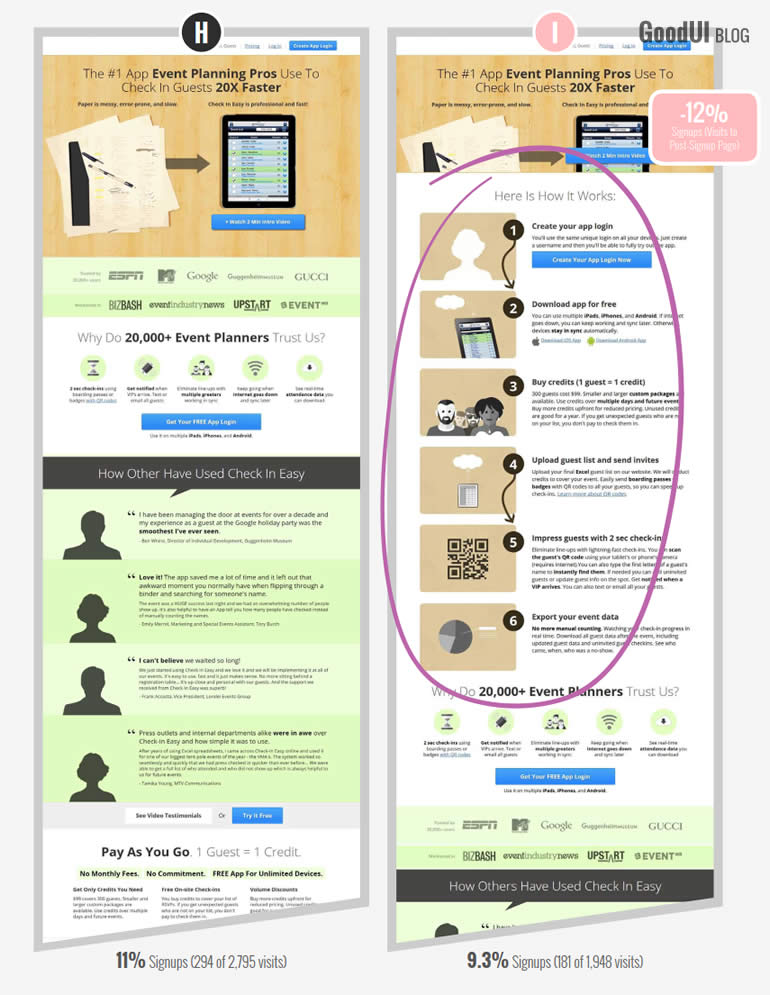 This 8 month iterative optimization project just finished and we learned something about storytelling while comparing 2 of the 8 variations. This comparison hints subtly that describing a signup and usage process perhaps isn't very effective at convincing people to signup. The possible -12% signup decrease (p-value of 0.17) in stands as some evidence. Although we don't consider this comparison as a very strong one, nevertheless here are some possible explanations as to why the storytelling variation (I) looked weaker.
Conflicting Message Of A Lengthy 6 Step Process
One reason which might explain the -12% decrease is that length of the 6 step process itself. Perhaps some people were discouraged by so many steps, thinking it wasn't very easy or quick. All these steps might have conflicted with the message in the headline which emphasized speed as the key benefit.
Distracted Attention
Another explanation for the weak loss might be from the large amounts of copy across all those 6 paragraphs. The "Here Is How It Works" story took up quite a bit of height from the page itself. Considering human attention is a scare resource, perhaps the story took people's attention away from the more effective messages (such as the benefits in the header, or social proof in the testimonials, etc.)
Telling, Instead Of Doing
Finally, maybe simply establishing a strong focus on the task at hand is more powerful than describing what needs to be done. Perhaps getting users to do the first step is better than telling or describing the full set of steps. Maybe the idea of smaller commitments (or rather, lack of) has manifested itself here in this variation.
Share Your Thoughts
But enough about my interpretations. Why do you think variation I hinted with weakness? I, and I'm sure others, would be very curious to hear why you think this data turned out the way it did.
---
---