Observation: Adding Social Counts Increases Conversions By +3.1%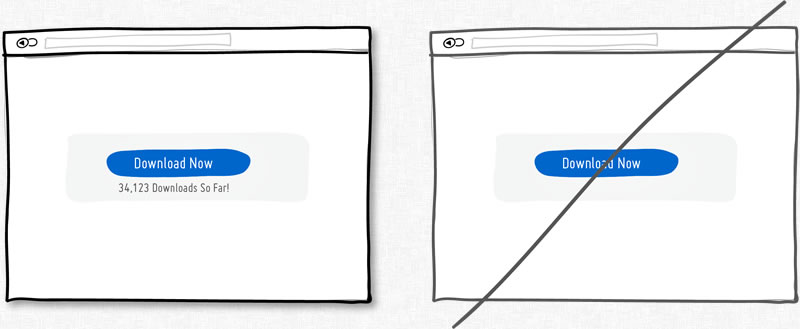 Showing counts of how many people have already downloaded, purchased, signed up to something is a form of social proof. But does it work in terms of raising conversions? I am slowly beginning to think so with a low +0.5 Certainty About A Median +3.1% Effect based on data from 2 A/B tests. This observation was made from two rather weak results and so we are on the look out for additional data to be even more certain. I admit that this is just a starting point, and need your help. Have you seen any similar tests, evidence or research for or against a change like this? If so, please share it.
Please Share What You Know Before September 27th For A Chance to Win
If you know of any research or similar a/b tests that were ran (by yourself or others) which support or challenge this UI change, please share it right here in the comments below.
The most up voted comment will receive the latest October Datastory issue with all other observations we made so far.
Don't forget to vote on others' comments :)
How Do We Measure Certainty?
If you need a refresher on how we calculate certainty and what it means, we've written about it here. Essentially, there higher the number, the more tests exist in favor of the idea, and the more certain we are that a change will have a positive effect.
What's Datastories?
It's a monthly publication where we aim to discover what concrete UI changes have an impact on conversions. We do this by making observations from similar a/b tests which are then updated each month as new data is shared. The end goal is to help optimization experts predict the effects of changes and increase their chances of finding winning tests.
And The Winner Is [Updated Sept 27th]
Thanks for all the comments. Jono Young was selected as the winner of this micro contest. :)