What We Know Already: Sept 2016
Every month we update what we know about how all sorts of UI changes affect conversions in the form of observations and sort them by highest certainty first. Here is a first such post for the month of September, 2016. Each month we update this list as we look at more tests and make new observations while updating older ones. Eventually we'll become more certain, one a/b test at a time.
Here Is The Current State Of What We Know Converts (And Doesn't)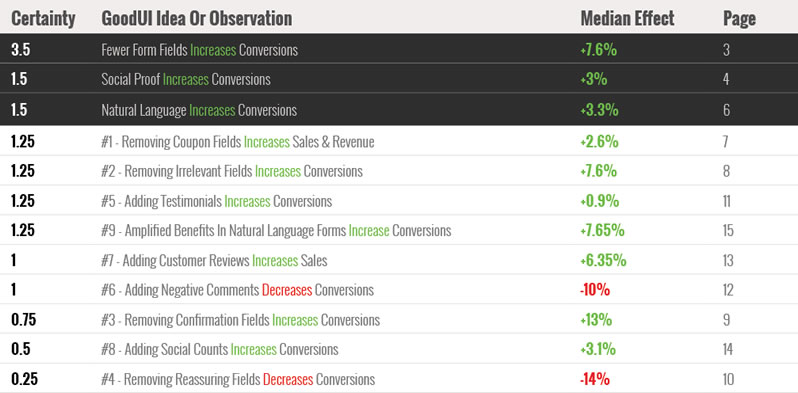 How To Read & Use The Above
The Higher The Certainty, The Better

The higher the certainty count, the more strong tests we identified to support the observation. Here is how we calculate it.

General Ideas Vs. Specific Observations

The list contains certainty counts for both general GoodUI ideas (often containing more tests), and more specific observations (with greater test similarity).

Median Effects

We share median effects from the grouped tests to get a sense / possibly predict the impact of that change (these will become more accurate with more tests / higher certainty counts).

Want More Detail & Updates?

To receive updates to these observations, see how to apply them, and on which tests they are based on, please get your Datastories subscription.