Pattern #80:
Persitent Filters
Pattern Author: Vinicius Barros Peixoto - SEO & Growth Product Manager at VivaRealBrasil
Based on 1 Tests, Members See How Likely This Pattern Will Win Or Lose And Its (?) Median Effect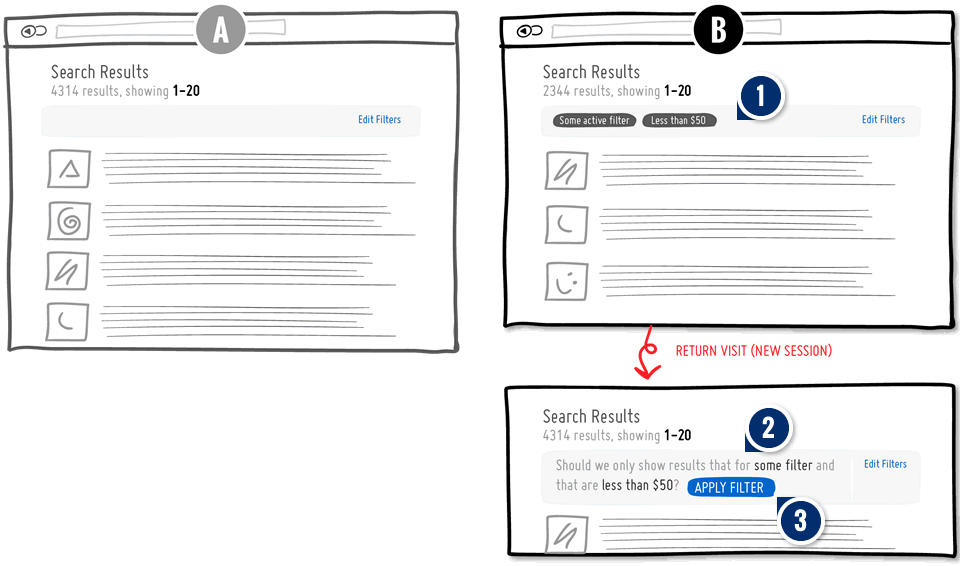 Filters are automatically applied from any searches or result adjustments performed on any screens. These user choices are then remembered and re-used across the site as the user continues the search.

New Session Confirmation Recognition

When users leave and come back (starting a new session), they are also recognized as having expressed some filter choices in the past.

New Session Confirmation Choice

At this point, upon return, users are provided a choice if they wish to apply their past filters.
Median Effects
?
Progression
Ex: First Action
?
Leads
Ex: Leads, Quotes
(1 tests)
?
Engagement
Ex: Future Action
?
Retention
Ex: Return Visits
?
Referrals
Ex: Social Shares
For each pattern, we measure three key data points derived from related tests:
REPEATABILITY - this is a measure of how often a given pattern has generated a positive or negative effect. The higher this number, the more likely the pattern will continue to repeat.
SHALLOW MEDIAN - this is a median effect measured with low intent actions such as initiating the first step of a lengthier process
DEEP MEDIAN - this is derived from the highest intent metrics that we have for a given test such as fully completed signups or sales.