6 Signup Form UI Changes With +17% More Signups For Thomasnet.com
In this very simple signup screen "redesign" project we combined a handful of evidence-based patterns into a single variation which was then a/b tested. As predicted, the positive probability patterns combined together for a positive impact. Here are the 6 key changes: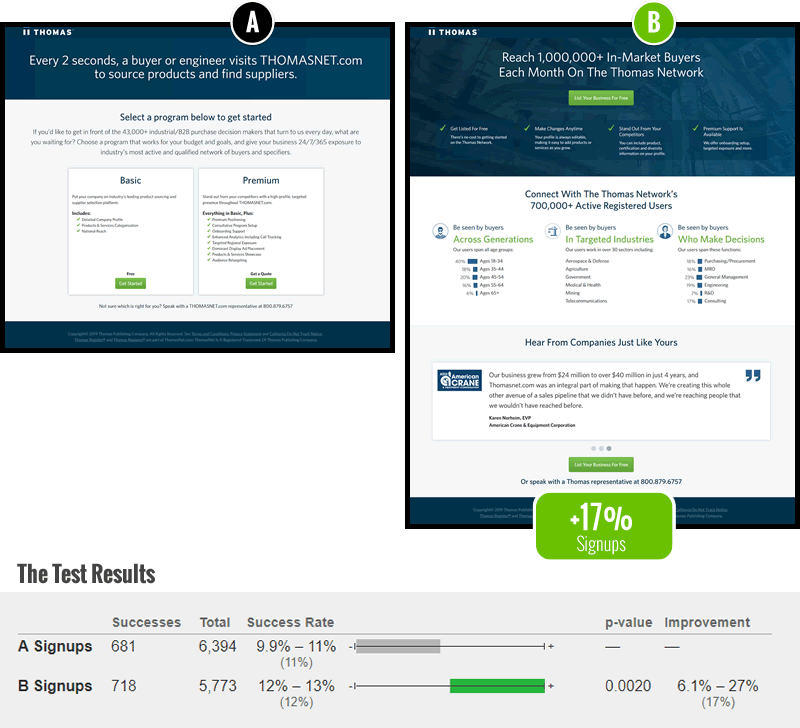 The Changes

How Do We Know What To Include Or Exclude In A Leap Experiment?
As we actively accumulate more evidence in favor or against selected patterns, this type of design and optimization work actually becomes easier. To determine which changes are included in such "leap" experiments, we simply group as many net positive patterns into a single design concept. The more frequently a particular pattern has performed with a positive effect, the more likely it's also going to work again in the future - we call this repeatability (or reproducibility). At the same time we also avoid any patterns that have a negative probability.
Typically what happens with such a strategy is that it maximizes the probability of impact as effects from multiple changes add up (more likely than not). It's a great way to kick start a larger improvement of unoptimized screens with a lot of upside. Anyone can do this as well and all that is needed is access to past test results. :)
---