What Makes The Best Product Page Template?
I am starting work on a GoodUI design system with the goal of providing designers, marketers and product owners with access to the best (highest converting) screen templates. Optimizing screens one change at a time takes too long and is often too difficult to detect for companies - this system will help companies optimize by making larger leaps. To do so, our emerging design system must at the very least do two things: 1) actively synthesize and update the templates with all the evidence from A/B tests as it comes in, and 2) express flexible variations as knowns and unknowns. Today, I'm sharing the tip of the iceberg with a potential starter GOOD Product Page Template (Figma) based on analyzing 6 product pages from: Amazon, Zalando, Booking, Airbnb, Etsy and Bol. I look forward to your feedback in order to make this even better.

Hello GOOD Templates
As a start I created this GOOD Product Page Template (Figma). This class of templates will most likely be free to anyone and its purpose is to surface core components and key layouts for such screens as: product, home & landing, listing, checkouts, signups, etc. How will we know what's good? Right now I've looked over a handful of product pages from companies that I considered leaders in the space. This template will also change over time (possibly offered to members).
Making GOOD Even BETTER
Although good might be good enough for some, the core idea of this system will be so that you can take a good template and make it better on your own. Can you tell I'm excited about this? :) This also will most likely will be a premium feature for GoodUI members and here is how we're going to enable this:
More Variations - Unknowns
As this project unfolds, I expect a lot of variations and interesting design question to emerge. The default stand on any new variation will be a neutral probability - an unknown. Here is one example of a variation for a full width photo on a product page. Because right now we don't have any evidence for or against it, it's still an unknown: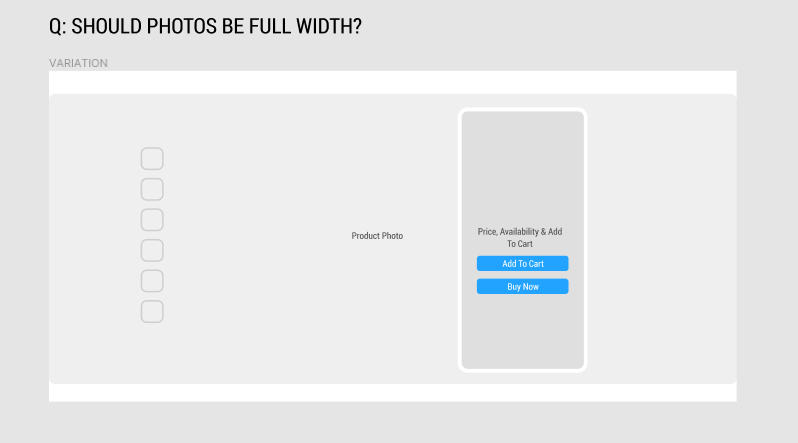 More Evidence - Knowns
As new evidence comes in, our patterns will start telling us which variations are better or worse. As an example, here is a full height photo variation that we've already collected some evidence for. And yes, our patterns also remember cases where such variations failed as in this recent Airbnb leak.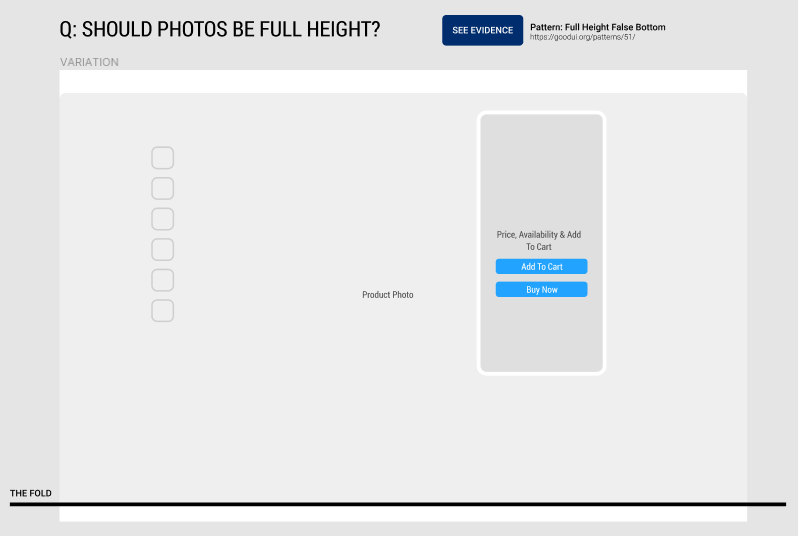 More Detail - Component Templates
For selected components or referenced patterns I think we'll need to add more detail in case someone wishes to speed up their design work (ex: testimonials, comparisons, reviews, top navigation, etc). To do this, we'll likely link to component templates (also with variations and evidence where available).
The Best Template
Ultimately the best templates will be ones which users modify on their own using the variations, evidence and patterns that we make available.
What Else Does This System Need For You To Be Successful?
As I'm working on this template system and integrating it into the existing platform, I'd love to hear from you - how can we make this even better? What are some characteristics you imagine that might be important for you to generate the highest converting templates and make a leap forward? Please share your comments or ideas how I can best deliver on this.
---