Airbnb A/B Tests Search With Automatic Prompts Which Gets Rejected
In this listing page experiment, Airbnb tried an very similar search interaction that is already present on Booking.com's homepage. Instead of only asking users for their destination, the search interaction was extended to prompt for travel dates and number of guests. Unfortunately, it doesn't look like the experiment succeeded as it was rejected - perhaps the Auto Next interaction was taken a little too far?
IMPLEMENTED Confirmed Jan 20, 2020
A - Oct 9, 2019 Screenshot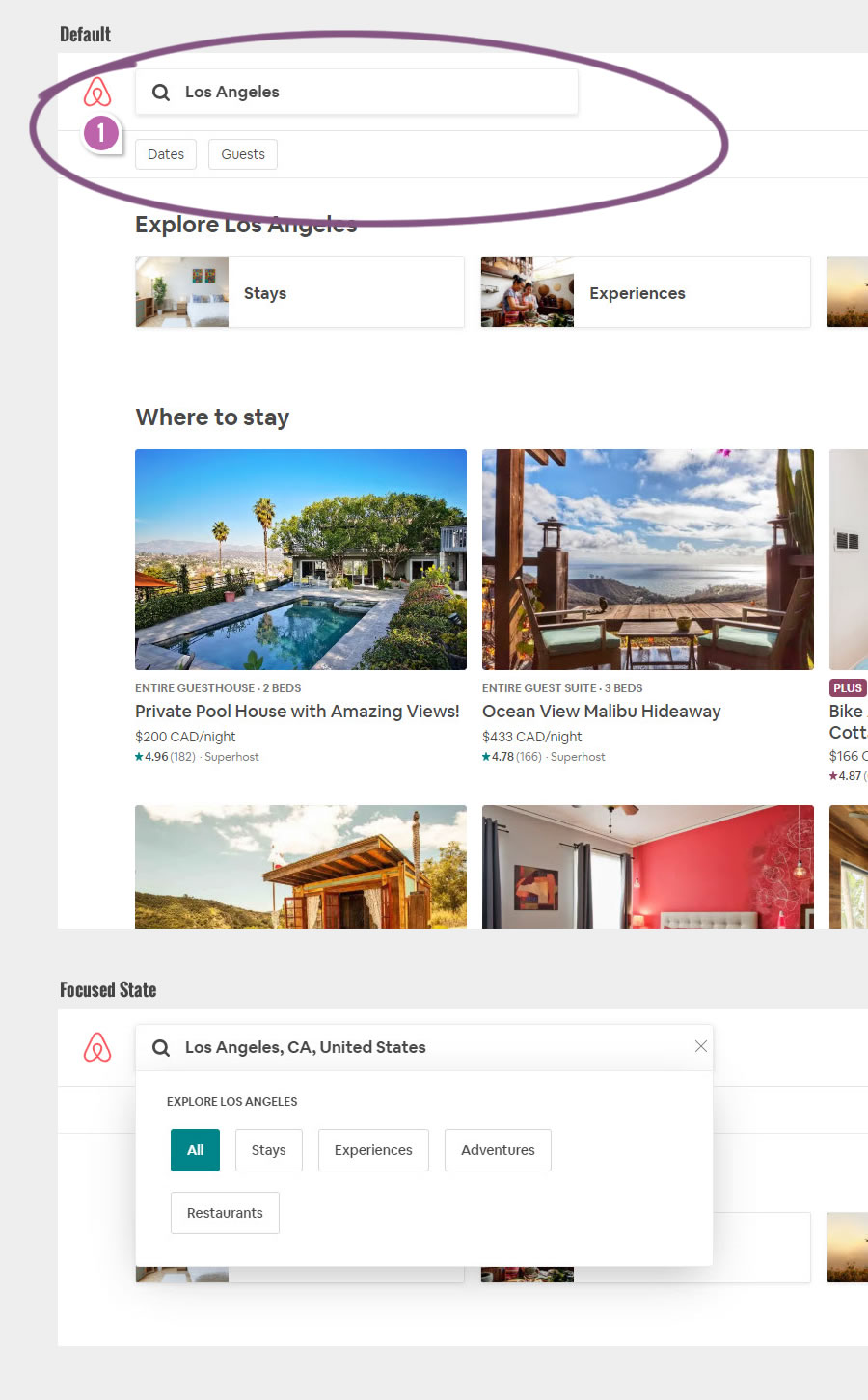 B - Oct 9, 2019 Screenshot

Highlighted UI Changes From This Leak
Unified Search




In the B variation we can see a more unified search that shows the input, date option, guest picker, and search submit all on the same line. The search button also gained a lot more contrast with a black background. This style is also very similar to the way Booking does their search on their homepage.

Booking.com's Similar Search

Prompting For Dates With Auto Next




The experiment wasn't only about looks, there was another key interaction detected that was present. Upon hitting "enter" or selecting a destination, variation B further prompted the next choice on users by expanding the date selector.

Prompting For Guests With Auto Next




Upon selecting dates, the same interaction continued on, prompting users to also enter the number of guests.
So Why Didn't The Booking Search Replicate On Airbnb?
Clearly, Booking has a very similar search present on their homepage, and yet this similar treatment was rejected on Airbnb - why? I have two potential hypothesis that may or may not explain Airbnb's rejection decision:
One, Booking actually does not prompt for guests - the last option. Although Booking prompts for dates with the calendar picker, they smart default to probably the most common number of guests (ex: 2 adults, and 1 room). They also show this default visibly inside the search component and possibly save some users an extra step.
Second, Booking has this search interaction on their more general homepage, whereas Airbnb has tested it on a deeper results / listing page. Could it be that once people start seeing potential results (seen on the Airbnb screenshot), they are more interested in browsing deeper into particular listings, rather than making additional choices?
Do you have any other thoughts as to why this might be working on Booking, but not for Airbnb?
Other Leaks From Airbnb.com Include: